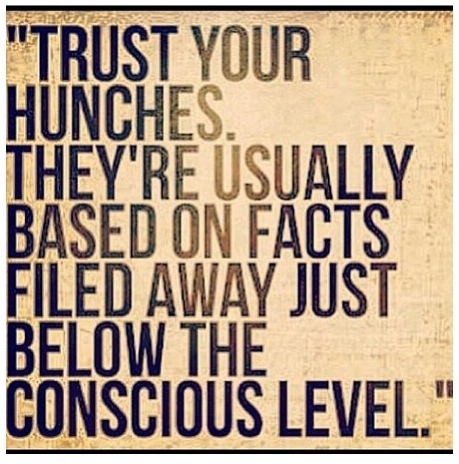 For your consideration…
We all have them…those nagging feelings/thoughts. Often we just can't put our finger on what it is, but our instincts are on alert.
Our message today reminds us that those nagging feelings/thoughts are from our authentic self and our Guidance. It is the inherent alert system we were born with in our life tool box. Rather than be passive and wait from them to surface, we need to heed them. More than that we need to be proactive investigating the what and why we are getting them.
Trust intuition. Listen to those nagging feelings and thoughts. They have a purpose and serve our highest good.
That is the HOPE. And so it is.
Bit by bit, piece by piece, HOPE by HOPE action steps anyone can take…
-Affirm…"I am loved."
-Meditate/pray…ask…"What is my next step for my highest good and the highest good of all?"
-Drink lots of water.
-Get outdoors and take in at least 10 deep breaths.
-Listen to those nagging feelings.
What made me smile yesterday…
-A fun morning with kindergartners.
-Catching up with Jackie.
-So grateful for a beautiful day here. Prayers and Blessings for those in hurricane Michael's path.
-A chill evening.
Love, Blessings and Gratitude,
Rev. Chris