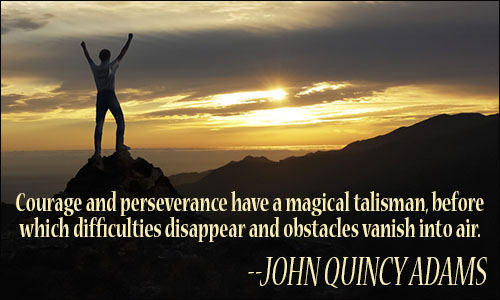 For your consideration….
As soon as I heard today's message I knew where it came from. Indeed, I had given a lesson on it yesterday. "No problem, I've got this." Just as quickly I heard, "That is only half of it. Just as important is the lesson learned by Lucas." How could I have forgotten.
Perseverance is going the distance. It is keeping on even when the going gets tough. Perseverance is facing the obstacles head on determined to forge on, over and through them. Perseverance is believing you can and will find a way to meet each challenge and complete your goal.
Yesterday, one of my students came to me at recess crying. She had taken a small picture of her father set in a little gold locket frame outside and lost it. She was devastated. It was almost time to go inside so I called for the class to form and we made a line and swept over the part of the playground where she was sure she lost it. We made a couple of sweeps but did not find it. As we walked inside many students told her they would help her look at lunch recess.
When they came back in from lunch recess, they were very excited to report that the picture had been found. Not wanting to miss a teaching moment, I circled back around to perseverance. We talked about how the class rallied around Isabella. We talked about how they stuck with the task and kept trying to find it. We talked about helping each other. They stuck with the task and persevered. They found the picture.
At that point one of my student's raised his hand and said, "Ms. Adams, I did not do that. I gave up." My heart melted. "Well, Lucas, do you think you learned anything from this? Do you see how perseverance paid off?"
"Yes."
"Then it is all good. We all learned something today."
Today we are asked to believe in ourselves and our partnership with our Guidance and persevere.
That is the HOPE. And so it is.
Bit by bit, piece by piece, HOPE by HOPE action steps anyone can take….
-Meditate/pray…ask…"What is my next step for my highest good and the highest good of all?"
-Drink lots of water.
-Get outdoors and take in at least 10 deep breaths.
-Persevere.
What made me smile yesterday…..
-Another great spring day. We have been so lucky.
-A great class.
-An early movie with Kathy and Dorasy. Fun.
-A great phone call with a happy Alex and great pictures following.
Love, Blessings and Gratitude,
Rev. Chris